Are you ready to elevate your Tulum nightlife experience to the next level?
Look no further than Bonbonniere Tulum!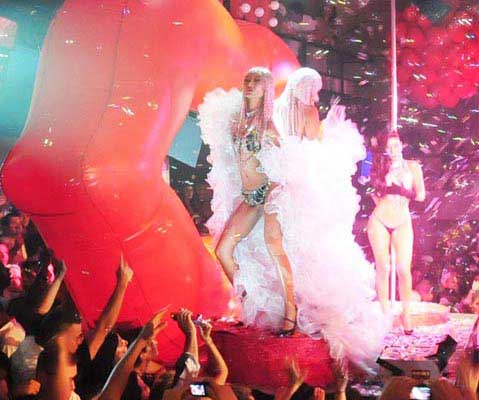 Bonbonniere Tulum Table Map
Party at Bonbonniere Tulum, where luxury meets entertainment in paradise. Bonbonniere Tulum is your ultimate destination for VIP table bookings at the best day clubs and nightclubs in Tulum.
Why Choose Bonbonniere Tulum's VIP Table Booking Service?
Prime locations: Bonbonniere Tulum exclusive table map that lets you choose the perfect spot for you and your friends. Whether you prefer a front-row seat by the DJ booth or a more intimate setting with a view, they've got it all.
Exclusive access: By choosing Bonbonniere Tulum, you gain access to some of the hottest venues in town. Skip the hassle of waiting in line and get straight to the heart of the party.
Personalized service: The dedicated staff is here to cater to your every need. From bottle service to customized drink packages, they ensure that your night is nothing short of extraordinary.
Guaranteed fun: With your table reserved in advance, you can focus on what truly matters—making unforgettable memories with your friends while sipping cocktails and dancing the night away.
Imagine this: You and your friends are seated at a VIP table, surrounded by the electrifying energy of Tulum's nightlife. The music is pumping, the dance floor is alive, and you have the best view in the house. With the VIP table booking service at Bonbonniere Club, this can be your reality. How it works:
Browse our table map: Explore our interactive table map to see the layout of your chosen venue. Each table is marked with details to help you pick the perfect location.
Select your table: Click on your preferred spot, and it's instantly reserved in your name. No more wandering around, hoping for a decent spot—your night starts stress-free.
Enjoy exclusive benefits: Booking a VIP table in advance has its perks. You'll enjoy priority entry, bottle service from the bottle menu, and the undivided attention of our professional staff.
Celebrate in style: Arrive at the club and head straight to your reserved table. It's your night to shine, and we're here to make it unforgettable.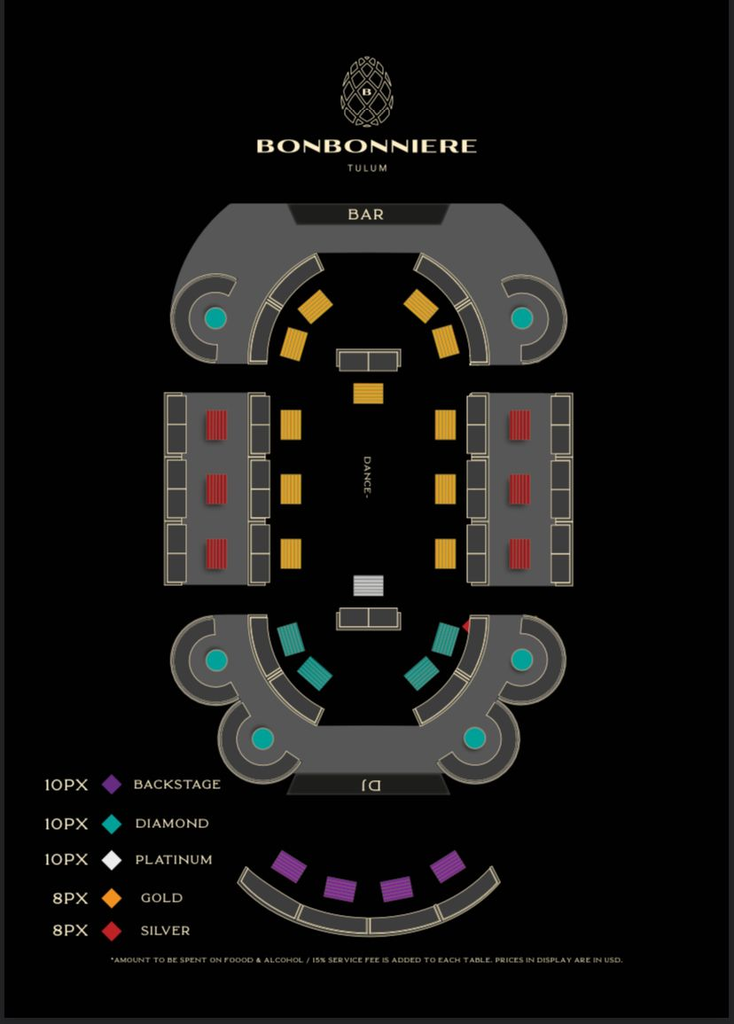 Tulum is renowned for its vibrant nightlife, and VIP Bonbonniere Tulum ensures you experience it in the most luxurious and hassle-free way possible. Don't miss out on the chance to secure your VIP table at the hottest day clubs and night clubs in Tulum.
Ready to make your night in Tulum extraordinary? Reserve your VIP table with Bonbonniere Tulum today, and get ready to dance, sip, and celebrate in style. Your unforgettable night out starts here.

Vip Table's packs

We provide VIP services and packages so you can experience the special night out that you wish!

Easy booking

We provide VIP area maps so you can choose your seating and the minimum spend. Everything is a click away!

Happy to help!

Through email, call or WhatsApp, we are always at your service. Do not hesitate to contact our 24/7 concierge service.

Luxury Services

Cars, boats, villas, private jets, etc... All you have to do is ask. We make sure that your Vip Experience is fulfilled!
Do you want to know more about Vip Tables at Tulum?